Press Releases
Ani Kavafian - Sahan Arzruni Tri-City Concert a Smashing Hit

November 4, 2002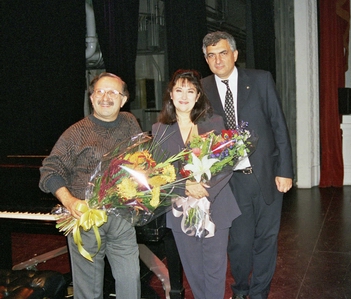 Pianist Sahan Arzruni, violinist Ani Kavafian and, Prof. Ashot Chilingarian, Head of CRD in Armenia, after the concert in San Francisco.
World-renowned musicians, violinist Ani Kavafian and pianist Sahan Arzruni performed in San Francisco, Fresno, and Los Angeles in tribute to the advancement of scientific excellence in Armenia. Performances in San Francisco and Los Angeles were sold out. Prof. Ashot Chilingarian, head of the Cosmic Ray Division of the Yerevan Physics Institute was the guest of honor at the San Francisco performance. The program included Violin and Piano Sonatas by Beethoven, Debussy, Babadjanyan, and shorter works by Khachaturian. In all three cities the artists were treated to multiple curtain calls. Their encore, Gomidas' Groong, touched the hearts of many.
It seemed as if the violin and the piano were having a conversation during the Babadjanyan: sometimes in sympathy with each other, sometimes in argument, and sometimes simply flirting. At some point I lost track – where does the performer end and where does the instrument begin? It does not end, it does not begin, it is all one continuous unit.
Ani Kavafian, who is a coveted soloist with every major symphony and chamber orchestra in the world, transformed us to another world, riding on the strings of her Stradivarius. Though she is physically petit, she is bigger than life when she plays the violin. Sahan Arzruni, who has performed for kings and queens, gave us the distinct pleasure of taking part in the Aram Khachaturian centennial celebration with the Poem and Toccata for Piano Solo by the master composer. Mr. Arzurni is spearheading a concert series in honor of Khachaturian's centennial celebration. Don't miss it in your local areas.
And how does science and music mix? "A country is not merely its president, its ministers, and its generals. A country is its people, their music, their art, their science, their passions, and their drive to thrive on their land from generation to generation", said Prof. Ashot Chilingarian, head of the Cosmic Ray Division in Armenia, when expressing his vision in a speech of gratitude to the Diaspora performers and the audience.