Press Releases
Cosmic Ray Division in Armenia Welcomes New Students
By Tanya Bresinsky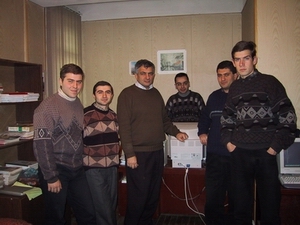 "Three of the new students at the Cosmic Ray Division pose with Prof. Chilingaryan and other young scientists from the Cosmic Ray Division. Left to right: Karen Arakelyan, Erik Sarkissian - graduate students of the Radio-Physics department of Yerevan State Univ.(YSU); Prof. Ashot Chilinagyan; fourth-year PhD student Nerses Gevorgyan; post doctoral scientist Ararat Vardanyan, and senior undergraduate at the Physics Department of YSU David Abraamyan."
Prof. Ashot Chilingaryan, head of the Cosmic Ray Division (CRD) in Armenia, welcomes 5 new students from Yerevan State University. Arsen Sogomonyan,
Ruben Petrosyan, Harazat Karapetyan will write their undergraduate diploma dissertation, David Movsesian will write his Master's dissertation, and Ersik Sarkissian will write his PhD dissertation under the advisorship of Prof. Chilingaryan and involving experiments at the Cosmic Ray stations on Mt. Aragats. Ararat Vardanyan, who received his PhD in 1999, and Nerses Gevorgyan, who intends to receive his PhD in 2002, are ready to support the new students in the grueling task ahead.
"Prof. Chilingaryan makes us work hard, and demands that we fully understand our subjects. It seems difficult to do sometimes, but in the end, it is very rewarding to know something really well," says Nerses Gevorgyan.
In August Ararat and Nerses accompanied Prof. Chilingaryan to the International Cosmic Ray Conference in Hamburg, Germany where both young men excelled in presenting comprehensive scientific reports while benefiting from their discussions with colleagues. "It is really great that Prof. Chilingaryan gives us opportunities to mix in the international scientific community, and we can see that our work is valuable and appreciated by our colleagues around the world. That is a very satisfying feeling and we don't feel isolated." according to Ararat Vardanyan.
The future of Armenian science soon will be in the hands of this generation. Prof. Chilingaryan feels that one of his most important tasks is to raise a generation of talented cosmic ray scientists who can continue the tradition of the famous Alikhanyan brothers who founded the CRD in 1942. He feels that if the younger generation is well trained, and offered opportunities to practice their science in Armenia, they will meet the challenge. In October Prof. Chilingaryan, together with other prominent educators from the region, participated in a NATO workshop in Tbilisi, Georgia devoted to future programs of scientific cooperation between NATO countries and Armenia, Georgia, and Azerbaijan. The goal was to discuss how to establish a fruitful scientific working environment in these three countries providing new PhD students and young scientists opportunities to work in their own countries.
Prof. Chilingaryan actively writes many proposals to international scientific organizations for CRD projects. As a result a great deal of the funding for CRD's research comes from international institutions. However, expenses for a number of critical items at the high altitude stations on Mt. Aragats, without which the CRD could not remain functional, are supported by the Diaspora, working together with the Cosmic Ray Division support committee, based in the town of Harvard, Massachusetts. The Armenian American community and organizations such as the Armenian Engineers and Scientists of America in Los Angeles, the Armenian Technology group in Fresno, the Armenian Engineers and Scientists of America in Detroit, and others continue to play an important role in the success of the CRD.
The Cosmic Ray Division is charting the future for science in Armenia by setting and example of excellence recognized worldwide. The CRD and its support committee express their appreciation for the Diaspora support and partnership. Together we can continue to provide opportunities for our talented young Cosmic Ray scientists and students on Mt. Aragats.
For a cyber visit to the CRD please go to http://www.crd.yerphi.am/
For more information about the Diaspora partnership with the CRD in Armenia please contact members of the Support Committee for Armenia's Cosmic Ray Division: Joseph Dagdigian jdagdigian@bicnet.net , Tanya Bresinsky TKBres@aol.com or Anahid Yeremian Anahid@slac.stanford.edu .