Press Releases
Cosmic Ray Division Students Receive Degrees and Acclaim
By Joe Dagdigian
June 25, 2011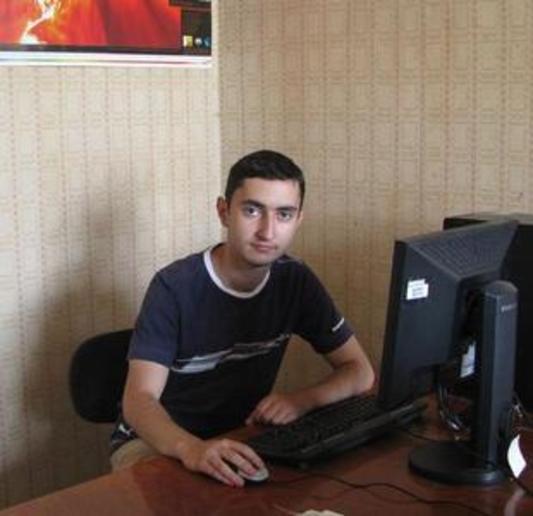 PhD recipient Bagrat Mailyan at the CRD Nor Ambert research station, Mt. Aragats
Bagrat Mailyan, the newest young scientist to immerge from the Cosmic Ray Division (CRD) of the Artem Alikhanyan National Laboratory (AANL) in Armenia, has been engaged in researching cosmic ray physics models, particle detectors, methods of the data analysis, and simulation of detector response. Prof. Chilingarian highly praised the quality and significance of Mailyan's work, stating that Bagrat availed himself of the unique chance to contribute, at a young age, to the solution of very important physics problems. Mailyan defended his PhD thesis "The Energy Spectra of Thunderstorm Correlated Electrons and Gamma-rays" at the June 7, 2011 session of the AANL council meeting.
Official thesis reviewers were Norayr Akopov from the AANL and Dr.Mikhail Panasyuk from Moscow State University. Dr. Panasyuk commented that this was the first time that energy spectra of electrons and gamma rays from the newly discovered phenomena of relativistic runaway electron avalanches in the atmosphere were presented to the scientific community. Dr. Mailyan will present the results of his work at the International Cosmic Ray Conference in Beijing, China this August and will participate in the competition for the post-doctoral position at the CRD to be organized by the AANL this autumn.
While Bagrad was engaged in experimenting, analyzing data, and defending his thesis, another two students were conducting their senior undergraduate research projects at the Cosmic Ray Division of AANL. Both students, Hasmik Rostomyan and Hripsime Mkrtchyan from Yerevan State University, conducted their senior research at CRD's high altitude research stations on Mt. Aragats and graduated with a Bachelors in Science degree.
With the head of CRD Prof. Ashot Chilingarian as senior advisor, both young women researched topics related to the ongoing work at CRD. The title of Ms. Mrktchyan's thesis was "The relation of the Electrical field intensity at the Earth surface to the flux of cosmic rays at the thunderstorm activity." Ms. Rostomyan's research topic was "Research of the Forbush decrease on February 18, 2011"This topic refers to the rapid decrease of intergalactic cosmic rays reaching the earth during massive solar eruptions known as Coronal Mass Ejections (CMEs).
In accordance with a new AANL policy of supporting bright, young Armenian scientists, both graduates were given employment at the Cosmic Ray Division while pursuing advanced degrees. Prof. Chilingarian gave high praise to both students. In addition Hasmik Rostomyan was accepted by the United States Space Agency (NASA) to attend its upcoming space weather school in Slovakia in July.
Anahid Yeremian, a physicist and chairwoman of the Support Committee for Armenia's Cosmic Ray Division (SCACRD), commented that support of the Diaspora greatly facilitated these achievements. "We are proud of our Diaspora", she cited, "and immensely proud of CRD's leadership, staff, and especially our talented young Armenian students, scientists, and engineers."