Press Releases
Road to Cosmic Ray Division Aragats Station Opened
By Joe Dagdigian
June 15, 2011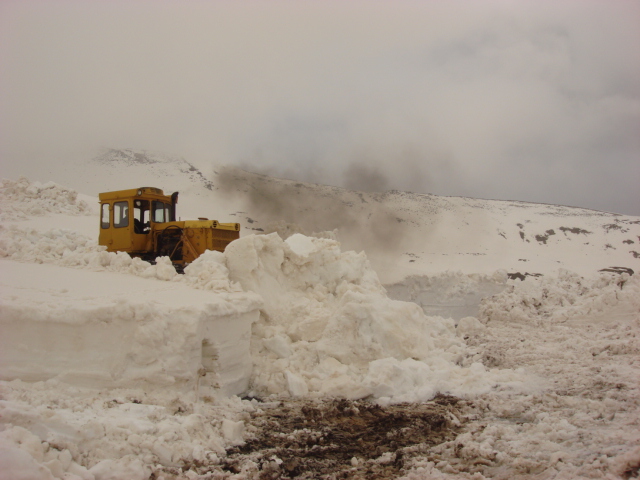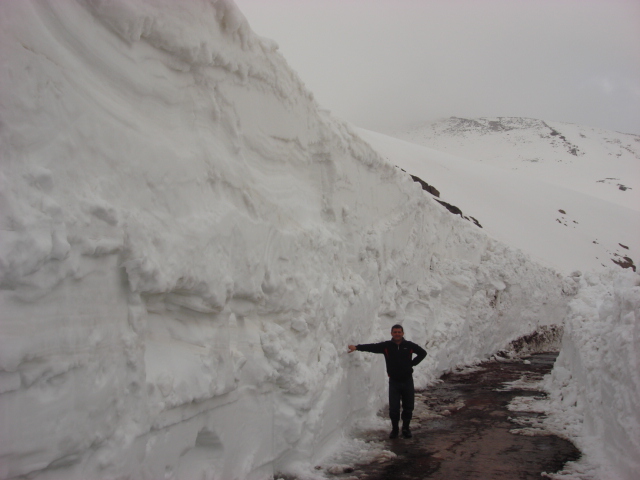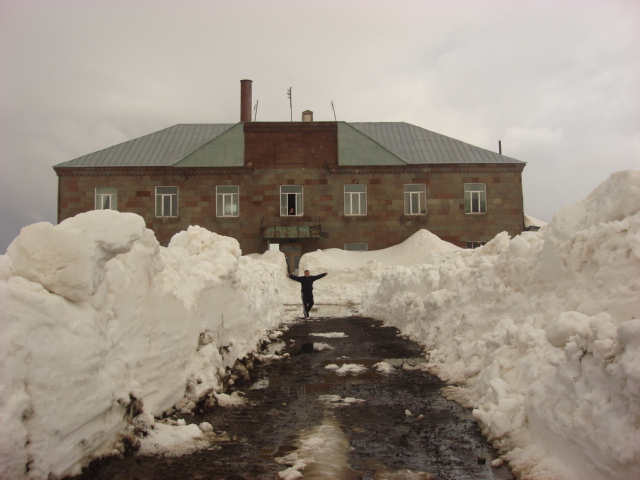 Mt. Aragats, Armenia - The Cosmic Ray Division of the Artem Alikhanyan National Laboratory (formerly the Yerevan Physics Institute) maintains two continuously operating cosmic ray observatories on Mt. Aragats. The uppermost research station at 10,500 feet experiences severe winter weather. During winter months a skeleton crew is maintained with crew rotation at approximately 6 week intervals, climatic conditions permitting. Rotations are made with snow mobiles and a tracked vehicles generously donated by the Detroit chapter of the Armenian Engineers and Scientists of America. Opening the narrow road to Aragats station, on the shore of Kari Lij (Stone Lake) atop Mt. Aragats, is a major yearly event signifying the arrival of Summer at the mountain top operation. An unusually heavy snowfall on Aragats in March and April made this year's opening of the road an extremely difficult endeavor.
In late May the task of clearing the narrow road to CRD's Aragats station began. For three days several bulldozers were sent up the mountain road pushing aside huge amount of snow. After two days the first bulldozer reached the vicinity near the station where the asphalt ends, the dirt roads begins, and where avalanches are frequent. There it broke down. Another bulldozer from CRD's Nor Ambert research station at 6,500 feet rushed up to finish the task. Thanks to CRD's two Hrants, Hrant Muradyan and Hrant Piliposyan, young student-scientists from Yerevan State University as well as visiting scientists from abroad will be able to ascend the mountain and join the dedicated CRD staff to conduct their experiments at CRD's facilities at the top.
CRD's engineers and scientists continue the exciting exploration of natural particle accelerators created within thunder clouds. This summer's projects include the completion of a new experimental laboratory hall in a building which was repaired last year to host new networks of particle detectors. The experiments will swing into operation this summer. A modern automated weather station will be installed to correlate meteorological and geophysical data. During all this activity a string of four electric field strength meters and lightning detectors stretching from Yerevan to CRD's Aragats Research Station will be calibrated and put into operation to supply valuable data on particle acceleration within Earth's atmosphere.
For more information on Armenia's Cosmic Ray Division please visit http://www.crdfriends.org .