Press Releases
Musicians Shine So Armenian Scientists Can Keep Seeing Stars
Armenian Weekly, Boston MA
June 4, 2005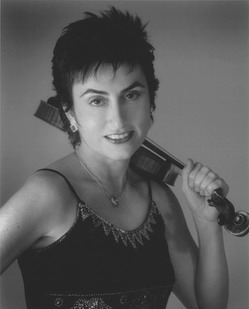 Violinist Nayiri Poochikian
World-renowned musicians, violinist Nayiri Poochikian, pianist Virginia Lum and Hoorig Poochikian performed in a concert on May 21, to benefit Armenia's Cosmic Ray Division (CRD) and its staff. The concert was sponsored by the CRD Committee of the Bay Area Friends of Armenia.
Gasia Mikaelian, a news reporter with KTVU Fox, opened the program by presenting a five-minute slide and video show about the CRD, its scientists and visionary leader, Ashot Chilingarian, which included a segment about the World Summit on Information Society award ceremony in Geneva, where Armenia was awarded the first prize for its Data Visualization Interactive Network in a competition that involved 800 projects from 136 countries.
The musical program included works by Khachaturian, Arutunian and Komitas. Nayiri Poochikian and Lum have received international acclaim as soloists, chamber musicians and educators.
Praised for her musicality and emotional intensity, Nayiri Poochikian has performed extensively as a soloist. Her stage appearances include Cairo's Opera House in Egypt, the Carnegie Recital Hall in New York; the Armenian, Egyptian, Lebanese, and Austrian Embassies; the Smithsonian Institute; and the Walters Art Gallery in Washington, D.C.
Violinist Hoorig Poochikian, born in 1990, has been playing the violin since the age of six and has studied under the renowned John Kendall. She is a member of the Landon Symphonette and the Washington Youth Chamber Orchestra. Hoorig is also a member of the Poochikian Trio with her mother, Nayiri, and her sister, Roubina.
An established chamber musician pianist, Lum has performed throughout the United States, Europe, Asia and the Caribbean, in halls such as the Lincoln Center for the Performing Arts, Carnegie Hall and the Phillips Gallery in Washington. She began her piano studies in Honolulu under Ernest Chang and received bachelor's and master's degrees from the Juilliard School of Music in New York.
Founded in 1943 on Mount Aragats in Armenia, the CRD laid the groundwork for the Yerevan Physics Institute, which has since become a large organization with many divisions and multiple scientific disciplines. With 80 scientists, engineers, technicians, students and support personnel who conduct cutting-edge research on cosmic rays, high energy physics and solar phenomena, the CRD continues to be in the forefront of astrophysical and cosmic ray research.
For more information, call Anahid Yeremian at (650) 926–4444 or visit www.crdfriends.org.