Press Releases
Armenia's Cosmic Ray Division wins World Summit Award.
Arax Mansourian performs in San Francisco and Los Angeles as a Tribute to the CRD
November 18, 2003
Stanford, CA - Armenia's Cosmic Ray Division (CRD), coined "A Space Weather Aerie", by Richard Stone of SCIENCE magazine in the August 29 issue, has been selected by the World Summit Awards (WSA) grand jury for having one of the top 5 WSA products in the category of e-science. Its web site DVIN for ASEC (Data Visualization Interactive Network for Aragats Space Environmental Center) was selected out 800 projects from 136 countries nominated for this competition. The winners were selected during deliberations from October 17 to 22 by experts from 36 countries, and were announced last week.
As one of the projects with best content, CRD's DVIN will be officially announced and presented at the WSA Exhibition in the framework of the World Summit on Information Society (WSIS) 2003 in Geneva, Switzerland, from December 9 to 13. Prof. Chilingarian will accept the award at a special ceremony called the WSA Showcase Event, which will take place on December 10 from 18:30 to 20:30 at the PALEXPO in Geneva. The event will be attended by leading representatives from the private sector, United Nations high ranking delegates, United Nation member states' governments officials, and above all by heads of States. Information about the WSA and the winning projects is posted on the web site at http://www.wsis-award.org Click on "WSA Best 03" then click on "e-science" to see DVIN.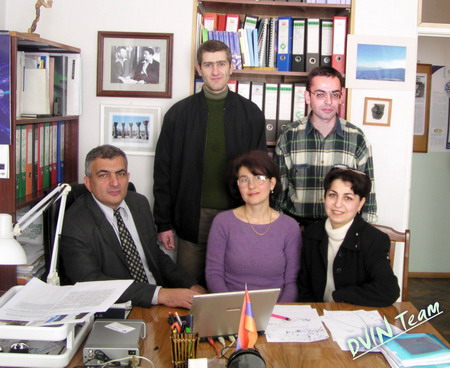 The Cosmic Ray Division team that designed and implemented the award winning DVIN Space Weather web site. Seated are Prof. Ashot Chilingarian, head of the CRD, and scientists Melanya Ulikhanyan and Gayane Kostanyan. Standing are scientists Aram Egikyan and Nerses Gevorgyan.
Take a moment to express your congratulatory support to Armenia's Cosmic Ray Division staff and their visionary leader, Prof. Ashot Chilingarian by sending an e-mail to crdfriends@crdfriends.org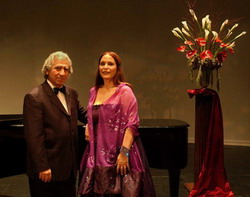 Sydney Opera soloist Arax Mansourian and accompanist Levon Abrahamian after a smashing performance in San Francisco as a Tribute to Armenia's Cosmic Ray Division.

Arax Mansourian, the Sydney opera soloist, expressed her support of Armenia's Cosmic Ray Division this year, by singing in a CRD Tribute concert series in San Francisco and Los Angeles in November. She sang classic opera arias, Armenian medieval chants, and songs by Komitas and Tigran Mansourian to a packed audience in San Francisco. Comments from the audience ranged from "She is everything an opera Diva should be: beautiful, powerful in voice, and a strong presence on stage" to "It is the most elegant evening we have spent in a long time". After graduating from the Komitas State Conservatory in Yerevan, Arax Mansourian was the star soloist with the Yerevan State Opera, singing in the leading roles in Anoush, Aida, Toska and other classic operas. She immigrated to Australia in 1994 where she has sang in leading roles with the Sydney and Brisbane Opera companies in classics such as Katia Kabanova, Toska, and Turandot. Her dedication to help the Armenian intellectuals lead a productive and satisfying life in Armenia equals to her larger-than-life voice. Accompanying Arax on piano and organ was Levon Abrahamian, also a graduate of the Komitas State Conservatory in Yerevan, and the talented accompanist who has played for Arax Mansourian, Gohar Gasparian, and Lucine Zakarian in Echmiadzin and the Opera house in Yerevan.
The CRD tribute concerts were sponsored by the Bay Area Friends of Armenia in San Francisco and the Hamazkayin Armenian Cultural and Educational Society in Los Angeles. For more information about Armenia's Cosmic Ray Division, please visit WWW.CRDFRINEDS.ORG or contact Anahid Yeremian at anahid@slac.stanford.edu .