Press Releases
BAFA Helps Armenia's Cosmic Ray Division to Maintain Its Standing as one of the World's Top Scientific Organizations.
January 4, 2003
Armenia's resource is it's brain power, however Armenia is losing this resource because of its current economic difficulties. Can we imagine a stable, economically healthy Armenia without its intellectuals? My answer is that I don't even want to imagine it. I want to work towards the goal of educating our children, and then providing them with opportunities to stay in Armenia.
Scientists who are analytical thinkers, who are problem solvers, and who can introduce creative solutions in difficult situations, are an essential part of nation building. The positive economic fall out from practical applications from their research is tremendous, as history has shown repeatedly.
To retain Armenia's intellectual resources requires substantial funding for the work of its scientists: funding which in all honesty, Armenia cannot afford today. Yet if Armenia loses its scientists, it will be nearly impossible to recover from the loss in the future.
Does it seem like an irresolvable dilemma? Not really. There is a solution and it relies on helping Armenian scientific organizations, which are continuing research of world-class caliber and attracting international funding because of the quality their work.
One such organization, which recognizes the importance of this concept in principle and in practice, is the Cosmic Ray Division (CRD), an advanced scientific organization that has placed Armenia among the top 5 countries in the world in the study of cosmic rays, solar physics, and space weather forecasting.
The extensive research facilities of the CRD on top of Mt. Aragats at 10500 ft, and at 6500 ft are a gift left from the affluent Soviet era. Today Armenia could never afford to build such an expensive infrastructure, but for a modest annual budget, Armenia can continue to maintain these facilities and maintain its top international status while attracting research funding from abroad. Approximately 100 Armenians (scientists, technicians, and support personnel) man these stations all year round in 3 week shifts. Shift changes take one and a half hours in the summer time and more than 11 hours in the winter time, when Mountain weather conditions are treacherous and dangerous. Yet the dedicated personnel of the CRD persevere and continue their work making many break-through research, resulting in numerous to share their discoveries with colleagues at international scientific forums.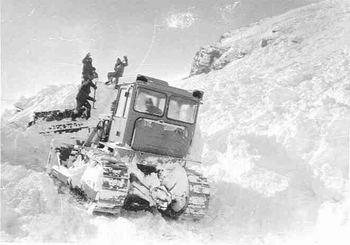 Shift change to the high altitude Cosmic Ray Division Stations at 10500 ft. on Mt. Aragats can be treacherous and dangerous in the winter.
Prof. Chilingarian, the visionary head of the CRD, also recognizes the key role that the future generation of scientists will play in Armenia's development. He teaches physics at the Yerevan State University and has several students who conduct their thesis research at the stations on Mt. Aragats under the watchful tutelage of the CRD scientists and Prof. Chilingarian.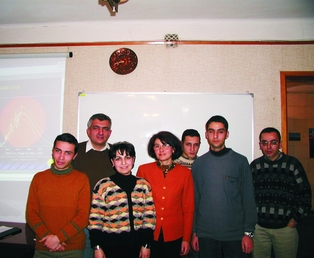 Opportunities for the younger generation to conduct high-level research at the CRD research stations on Mt. Aragats is of high priority. From left to right: Arther Reimers, first-year Masters student; Prof. Chilingarian head of CRD and physics professor at YSU; Gayane Kostanyan, post-graduate scientist; Melanya Ulikhanyan post-graduate scientist, Ruben Petrossian, first-year Masters student; Arsen Sogomonyan, first-year Masters student; Nerses Gregorian, last-year PhD student.
Because of their world-renowned reputation, international scientific partnerships cover 85% of CRD's current funding. However, the current funding is still less than half of the needed budget. The scientists and technicians who have persevered for the past 12 years, staying in Armenia and continuing their quality research there, are severely underpaid and continuously encouraged by the international community to relocate.
Many of CRD's projects have very high potential for future practical applications and revenue. This year, the CRD has made great progress in the area of Space Weather Forecasting, a very important area of research to safeguard our satellites and our astronauts in space and protect our airline passengers on over-the-poles flights from dangerous levels of solar radiation. Because of their breakthrough work in this area, Prof. Cilingarian has been invited to make keynote presentations at the European Cosmic Ray Conference in Moscow, and the Space Weather Workshop in Japan. He has also been invited to teach at the European High Energy Physics school during its 2-week session which will be held in Armenia this year.
Each year CRD's funding from international scientific partnerships increases thanks to the quality and importance of their research for the international community. It will not be very long before the CRD can become self-supporting, however in the meanwhile they need the help of us, the Diaspora Armenians, who recognize the importance and future economic implications of supporting such a strong and vital scientific organization to continue its work in Armenia.
In 2002 the BAFA board of directors voted to adopt the CRD as one of its projects, as a logical extension of our commitment to help Armenia in its developmental phase. Our main focus in 2002 was to educate our local community about the CRD by making many presentations to Armenian community organizations and by supporting the CRD financially. In October we sponsored a successful, sold-out concert by the world renowned violinist Ani Kavafian and pianist Sahan Arzruni for the benefit of the CRD. We thank you, the community, for your generous response to the challenges faced by Armenia's scientists. It would be impossible to make progress without your support. For more information about the CRD please visit the website http://www.crdfriends.org