Press Releases
Ani Kavafian - Sahan Arzruni Performance
as a Tribute to Armenia's Cosmic Ray Division
Dr. Anne T. Vardanian
October 10, 2002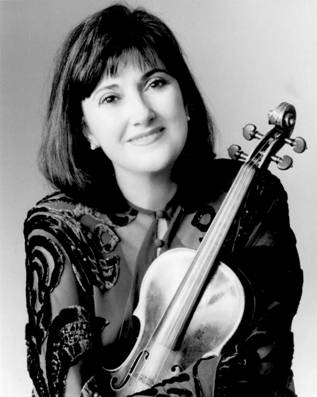 Ani Kavafian
World-renowned musicians, violinist Ani Kavafian and Sahan Arzruni will perform in concert on October 23 at 8:00 PM at the Skirball Cultural Center's Magnin Auditorium in Los Angeles, 2701 North Sepulveda Blvd. The benefit concert, sponsored by the Armenian Engineers and Scientists of America and the Istanbul Armenians of Los Angeles, is part of a fund raising effort to perpetuate the goals of Armenia's Cosmic Ray Division and its dedicated staff. A culmination of a try-city concert series, of special significance is its tribute to the CRD research and educational goals, a concentrated effort of the arts in support of Armenia's scientific endeavors.
Ani Kavafian and Sahan Arzruni have achieved international acclaim as soloists, chamber musicians, recording artists and eductors. Their tri-city concert tour includes performances at the California Palace of the Legion of Honor, Lincoln Park, in San Francisco on October 20 (SOLD OUT), and the Tower Theater, 815 E. Olive Ave., Fresno, October 21, 7:30 PM. The concerts provide California audiences with the rare opportunity to witness masterful artistry by gifted musicians.
Born in Istanbul, Turkey, Ani Kavafian's early musical studies began with the piano at age three, and when her family moved to the united States, she began to study the violin at age nine. At age sixteen, she won first prize in both piano and violin competions at the National Music Camp in Interlochen, Michigan. She later studied violine at the Juiliard School with Ivan Galamian and received a Master's Degree with top honors. Ms. Kavafian is an Artist-Member of the Chamber Music Society of Lincoln Center, touring with them throughout the U.S. and Canada, in addition to performing in their regular series at New York's Alice Tully Hall. She has performed with virtually all of America's leading orchestras and has participated at numerous festivals including the Santa Fe Chamber Music Festival, Bravo! Colorado, the OK Mozart Festival, Virginia Waterfront International Arts Festival, etc. Her numerous prestigious awards include the Avery Fisher Prize and the Young Concert Artists International Auditions. She has appeared at the White House on several occasions and has been featured on many network and PBS television music specials. In a recent review Mrs. Kavafian was described as,
"Ms. Kavafian played the concerto on her Stradivarius violin and the quality of
her playing clearly matched the pedigree of her instrument. She is a very lively
person, one who throws herself quite joyfully into her playing. It seemed at times
she could barely keep from dancing as she played."
She is a member of the faculty of McGill University in Montreal and resides in Westchester, N.Y. with her husband artist Vernard Mindich, and their son Matthew.
Sahan Arzruni is a musician of striking versatility who has achieved recognition as composer, ethnomusicologist, writer and broadcasting personality in addition to his performance skills. He was born in Istanbul, Turkey and as a teen-age writer, he authored a textbook of music there. He attended the conservatory in Istanbul before he arrived in the United States in 1964 to attend the Juilliard School of Music where he graduated with advanced degrees. A highly recognized musician of international acclaim, Mr. Arzrruni has been featured in a number of television shows such as the Johnny Carson and Mike Douglas Shows, as well as PBS specials – Around the World in '82, Gala of Stars, and Carnegie Hall at 100, among others. He has given Command performance at the White House, as well as the British, Danish, Swedish and Icelandic Courts. He has also hosted a radio program on New York's Municipal Broadcasting System for five years, addressing issues concerned with the didactic of piano playing. As a scholar he delivered papers and organized symposia for Harvard University, Columbia University and University of Michigan at Ann Arbor. Recently, Mr. Arzruni delivered a lecture on Armenian liturgical chants at the invitation of the U.S. Library of Congress in Washington D.C. In 1996, he received from His Holiness Karekin I, an encyclical and the Sts. Sahak an Mesrob Medallion. He also records for New World Records, Composers Recording Inc, Musical Heritage Society, and Positively Armenian, among others.
Tickets for the concerts may be obtained by calling: Los Angels:
(310) 403 – 5388
(818) 259 – 9248
Fresno: (559) 226 – 6343
(559) 486 – 1141
Truly worthy benefit for a worthy cause.